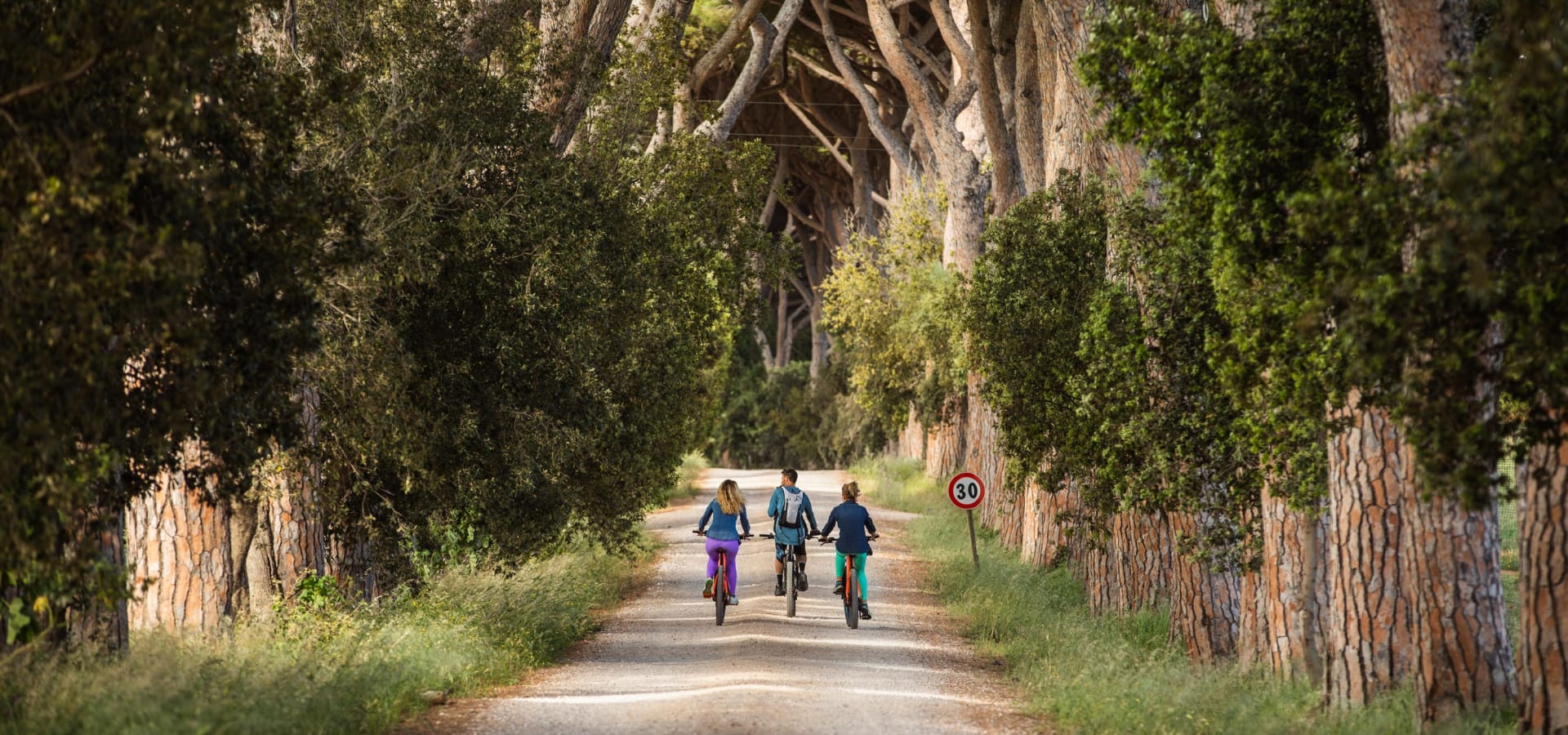 Bolgheri Wine Tours
E-Bike tour in Bolgheri: the skyline in the saddle
An exciting new e-bike tour of Bolgheri along a magical nature routes in Tuscany. Marvel at the views, immerse yourself in nature and feel your body respond.
Price p.p.65

€

Pax.12
Duration3

h.
Book nowTours
The secret heart of Tuscany
Cycling the horizon, inhaling the spirit of a land without limits
This is an experience that anyone who truly loves e-bike tours should try at least once in life. Climb into the saddle and head for the woods of Bolgheri, getting lost among the oak and broom, exploring stunning panoramas and savoring the smell of the sea. 
This isn't any ordinary day out in the countryside or a normal Tuscany tour. We're talking about mindful exploring and poetic pedaling 
There are the benefits for mind and body and there's the magic of biking to conquer unforgettable sights. If your legs start to twitch under the table, don't worry about it. That's when you're really starting to experience Bolgheri.
The pleasure of thinking about nothing
Bolgheri is a superbly organized route, a gem among e-bike tours. From the moment you book, you won't have to worry about a thing. You'll get your wheels just before setting off from Tenuta Le Colonne, where you'll meet your Tutun Club guide. Now all you have to think about is taking in the beauty that the 8km route has in store. 
The enjoyable route has an uphill climb of about 150 meters, pausing at one vantage point after another to snap some amazing photos. There will even be a few pit-stops for drinks and rest.
At the northernmost point of the circuit, you reach Tenuta Meraviglia for our longest, last-but-one stop. Here your gaze will once again stretch as far as the horizon, stretching to the Tuscan islands, and even distant Corsica. Breathe in the salty air that rises off the sea and blows inland to the hills.
High on life and intoxicated by beauty, it's time to ride through the pinewood towards your much-deserved wine tasting session with cheese and Tuscan "schiacciata".
Two experiences, the same route
There are two ways to savor this experience. The e-bike tour runs alongside a hiking trail, so you can enjoy the landscape at your own pace. Whichever adventure you choose, it will be intense and extraordinary. Both are worth doing at least a couple of times.  
April to December are the months when you can add this tour to your memories. Book here to make sure you secure a spot, selecting your preferred date in the calendar.
We want all our guests to enjoy the range of experiences that our estates have to offer. For that reason, we ask you to contact us a few days prior to your tour in case of particular needs.
Information
Meeting point at the Tenuta Le Colonne enoteca, where your Tutun Club guide will meet you

Participants will be provided with e-bikes and helmets (included)

E-bike route through the shrub and vineyards

(8 km – climb 150 m) 

Panoramic break

on the wooden terrace in the Tenuta Meraviglia vineyards, with a view over the Populonia headland and the Tuscan islands

Tuscan wine and dine experience: tasting two wines

 at the Tenuta Le Colonne enoteca, sampling cheeses and Tuscan "schiacciata" bread

Duration: around three hours

Recommended clothing: sneakers; long-sleeved T-shirt, cycling shorts (if preferred); bring your own water bottle (a small bottle of water will be provided); baseball cap (if you prefer not to wear the helmet); windbreaker, in case of variable weather

Parking available at the Enoteca

Meet ten minutes before the tour starts at

the Tenuta Le Colonne Enoteca

Booking available for groups up to 12 people

Tours available on Saturdays at 09:30 from 01/04 to 15/06 and from 15/09 to 30/11; and on Tuesdays at 17:00 from 16/06 to 14/09

Other availability available on request

Free for children under 20kg (in this case, booking a child buggy is required)

Not accessible to children and teenagers over 20 kg and 155 cm in height

Pets are not allowed into the cellars

• Booking required at least 24 hours in advance

Cancellation clause: cancelling parties will only be entitled to a refund if a cancellation

email

 is received at least 72 hours in advance of the activity in question
Bolgheri
Via Vecchia Aurelia 418, Località Donoratico – 57022 Castagneto Carducci (LI) ITALIA
Wine Shop Tel.:+39 0565 775246 Email: [email protected]
Other Bolgheri Wine Tours
Wine tours in other Tuscany territories