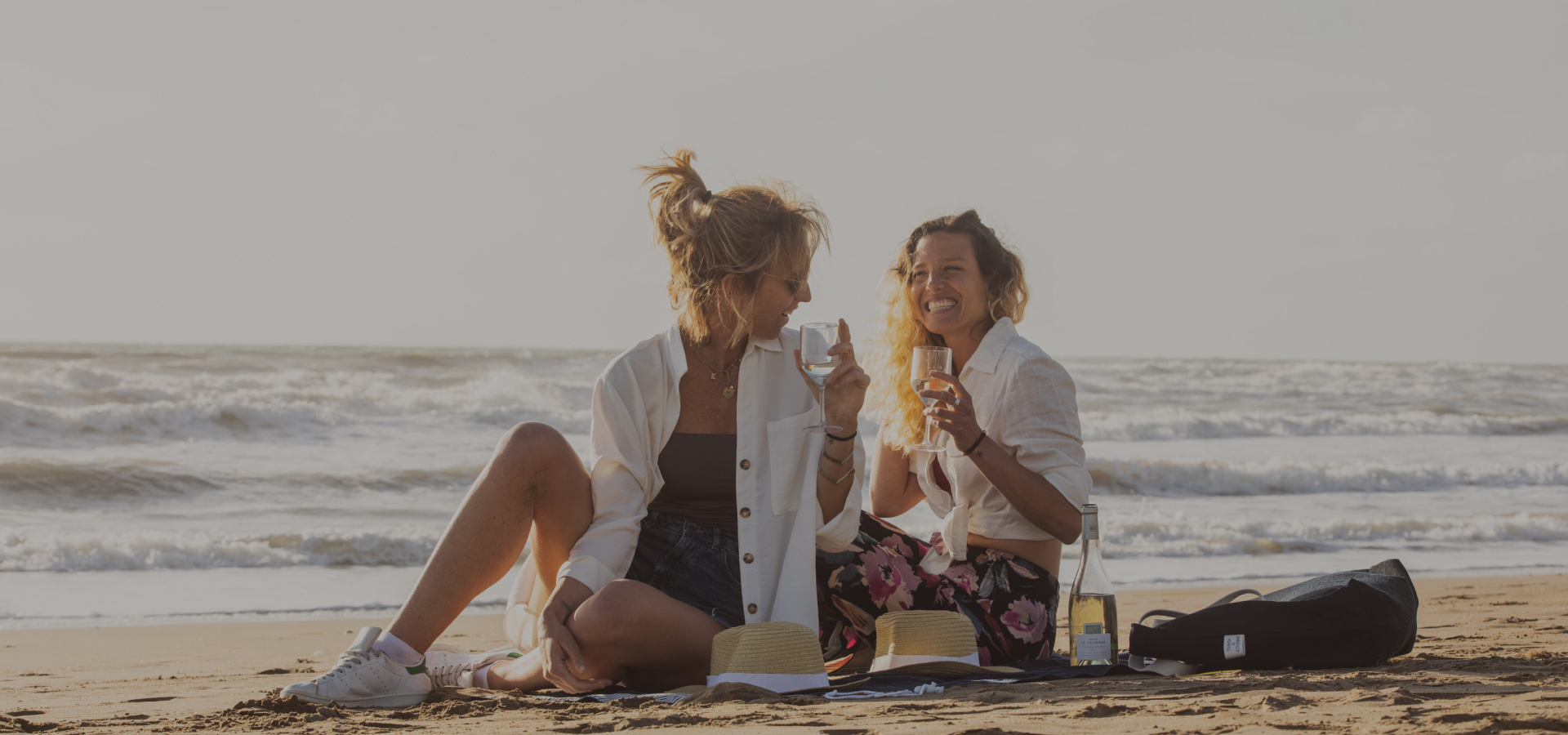 Bolgheri Wine Tours
Tenuta Le Colonne Bolgheri Sunset Beach Tour
Tenuta Le Colonne Bolgheri Sunset Beach Tour: an unusual and romantic aperitivo for two on the beach.
Price p.p.95

€

Pax.2
Duration2

h.
Book nowTours
What you'll do during the Tenuta Le Colonne Bolgheri Sunset Beach Tour
Book the Tenuta Le Colonne Bolgheri Sunset Beach Tour and you'll have the chance to enjoy an unusual and romantic aperitivo for two in which the wine echoes the sea. It's an original idea that encourages you to explore Bolgheri in a different way.
The tour is conducted independently after picking up the tasting kit from the Tenuta Le Colonne wine shop, just off the Via Vecchia Aurelia. You'll be given directions to reach the beach in your car. Just follow the road Vecchia Aurelia towards the sea and in a few minutes you'll reach the dunes and the beach.
Our staff will hand you the Tenuta Le Colonne beach bag lined with a cooling material, so you'll be able to enjoy the wine at the right temperature. You can choose from three of our estate's wines: the floral and citrusy Vermentino Costa Toscana IGT, which also vaunts herbal hints like rosemary, whose strength lies in its freshness and versatility; the young, vibrant and dynamic Rosato Costa Toscana IGT; Rosso Bolgheri Doc, a balanced and harmonious blend of Cabernet Franc, Merlot and Cabernet Sauvignon that stands out with its intensity and structure, while still maintaining its freshness and elegance.
Tenuta Le Colonne is situated in a beautiful spot, surrounded by verdant vineyards, woodland and olive groves, and the deep blue of the sea. This is a generous land that boasts a unique microclimate, soil diversity and vineyard exposure, whose happy marriage benefits from our production philosophy. In the vineyard we refuse to use chemical fertilizers, herbicides and pesticides; instead we work the soil deep down to ensure maximum oxygenation and to encourage the microbial activity needed to develop a noble humus, taking care of our vines with natural processes. Green maturing enables us to provide the right nutrients to the vines by sowing certain species and herbs among the rows, such as faba bean and pulses, which are capable of transforming nitrogen in the air into nitrogen to feed the vineyard.
Once it has been oxygenated at depth and fed with specific seeds, the soil becomes so rich in nutrients and microorganisms that plants grow healthily and in a balanced way. This natural approach continues in the cellar through spontaneous fermentation in large, raw, tulip-shaped concrete vats and using solely native yeast. Unlike the usual approach to refinement for Bolgheri DOC wines, we age our wines in large, untoasted French Allier oak barrels, which enable the wines to evolve naturally, bringing out the terroir without masking or suffocating them with woody aromas. This is how we ensure our wines are unique, elegant and refreshing.
In addition to the wine, the beach bag contains two plexiglass glasses and a branded corkscrew, two straw hats with a personalized Tenuta Le Colonne ribbon and a soft beach towel. You can keep all these as happy memories of your time on our Bolgheri beach. Sip the wine on the beach at sunset in an informal and relaxing atmosphere, experiencing an authentic expression of an unparalleled land.
Information
Beach wine tasting kit: a bottle of Tenuta Le Colonne wine (choose between Vermentino Costa Toscana IGT, Rosato Costa Toscana IGT and Rosso Bolgheri DOC), Tenuta Le Colonne beach bag lined with cooling material containing two plexiglass glasses and a branded corkscrew, two straw hats with branded ribbon and a beach towel
Duration: not stipulated
Tasting kit collection before 6pm from the Tenuta Le Colonne wine shop
Daily before 6 pm
No disabled access
Pets allowed only on the equipped and marked beach at Località Seggio
Mandatory booking at least 24 hours before the start time
Price is for two participants
Cancellation policy: for refunds, we must receive the cancellation by email at least 72 hours before the start time
Bolgheri
Via Vecchia Aurelia 418, Località Donoratico – 57022 Castagneto Carducci (LI) ITALIA
Wine Shop Tel.:+39 0565 775246 Email: [email protected]
Other Bolgheri Wine Tours
Wine tours in other Tuscany territories