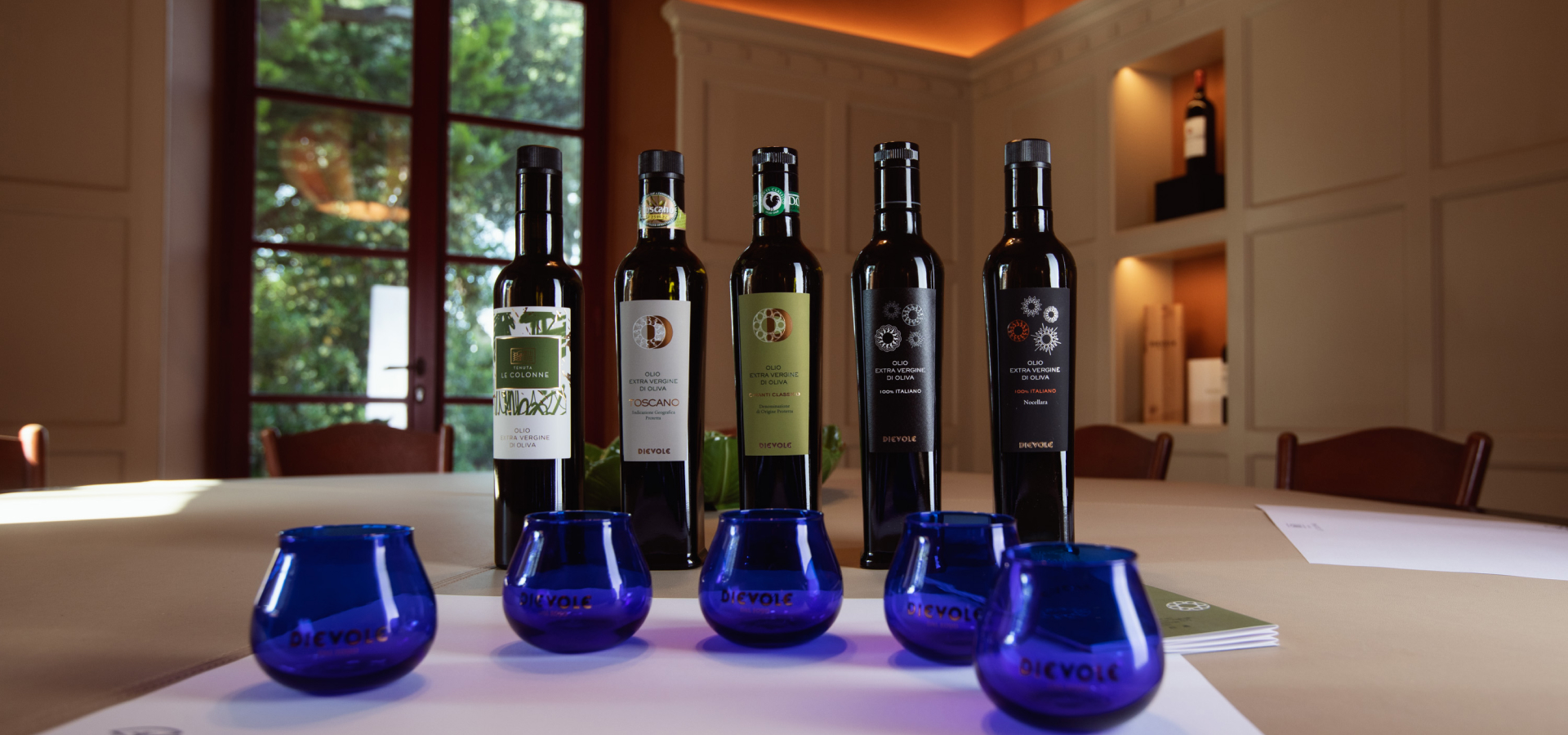 Bolgheri Wine Tours
Sweet dreams: The Tenuta Le Colonne Oil Experience
An exclusive Oil Experience at Tenuta le Colonne, exploring the flavors of five olive oils that reawaken all the senses
Price p.p.20

€

Pax.6
Duration1

h.
Book nowTours
What you'll do during an Extra Virgin Olive Oil Tasting
Every olive oil is like a dream.
Each oil nips at our senses in its own unique way, with singular aromas, flavors and secrets. What better place to taste our five most precious "dreams" than Tenuta Le Colonne?
If you're a flavor connoisseur, you're in the right place. Our tasting begins in the best setting and with exceptional stars: you and our olive oils.
Imagine a journey that's all about flavor, through the infinite qualities of these culinary excellences with their limitless antioxidant, therapeutic and culinary properties. Imagine discovering that these olive oils are considered among the best in the world.
Now it's time to open your eyes again. 
During your visit, we'll tell you about the production ethos that underpins all five of these masterpieces, which is based on two fundamental principles: respect and traceability of the cultivars. 
That's not all, because we want you to taste some of the history and culture behind Chianti Classico DOP; Toscana IGP; 100% Italiano Blend; 100% Italiano Monocultivar Nocellara; and 100% Italiano Monocultivar Coratina.
After having discovered and tasted our olive oils, we'll focus on pairings. Our aim is that you learn which oil to match with the recipes you make at home.
Happy awakening!
Information
Technical tasting of our extra virgin olive oils at the Enoteca:

Dievole 100% Italiano Monocultivar Nocellara; Dievole Toscano IGP; Tenuta Le Colonne 100% Italiano ; Dievole 100% Italiano Blend; Dievole Chianti Classico DOP

Duration: approx. 1 hour

Parking by the Enoteca

Meet 10 minutes before the start of the tour at Tenuta Le Colonne's Enoteca
Available by reservation only for 6 people max. (for larger groups, please contact:

[email protected]

)

On request

Children up to 12 years go free

Disabled access

Pets allowed

Mandatory booking at least 48 hours before the start time

Cancellation policy: for refunds, we must receive the cancellation 

by email

 at least 72 hours before the start time
Bolgheri
Via Vecchia Aurelia 418, Località Donoratico – 57022 Castagneto Carducci (LI) ITALIA
Wine Shop Tel.:+39 0565 775246 Email: [email protected]
Other Bolgheri Wine Tours
Wine tours in other Tuscany territories