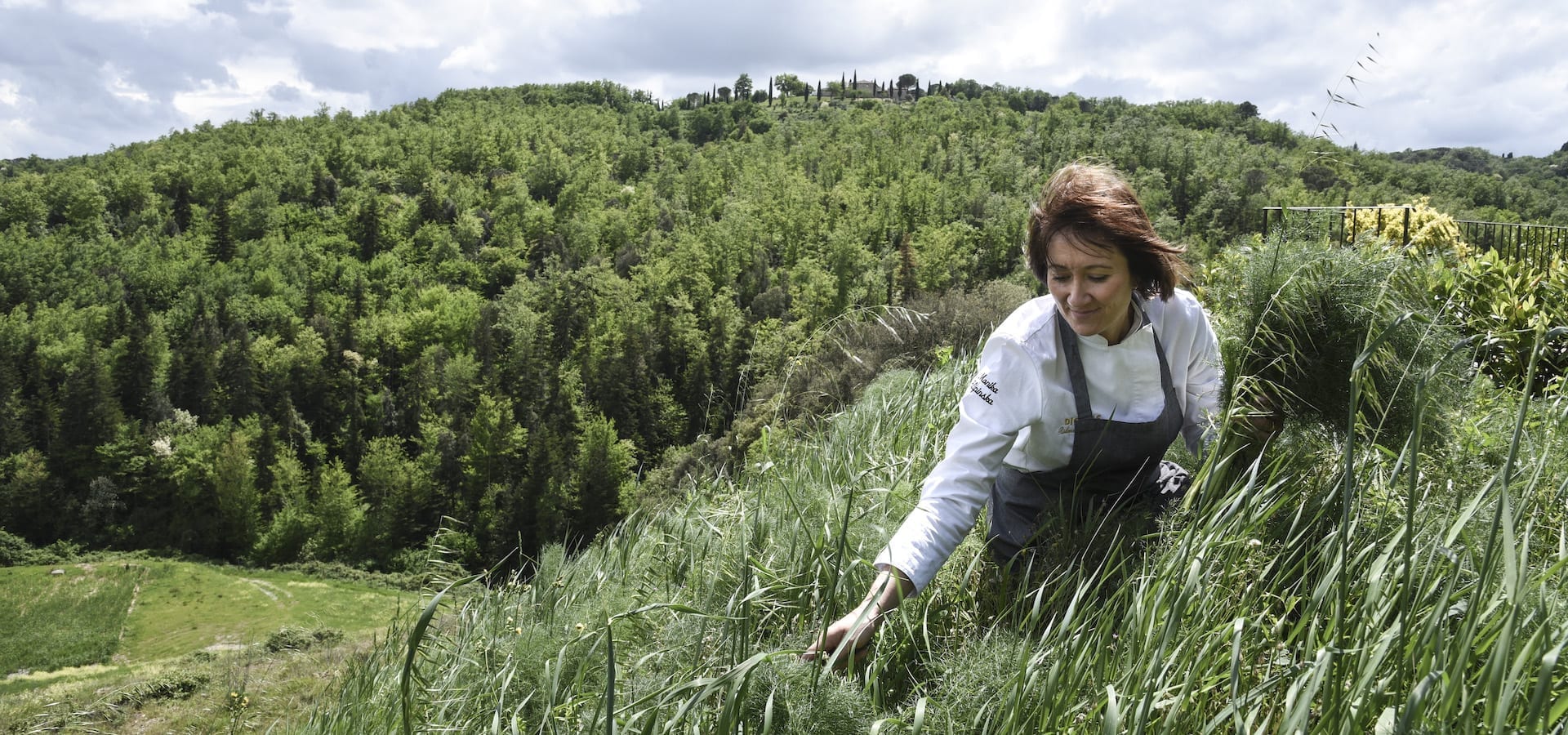 Chianti Classico Wine Tours
Foraging Tour at Dievole
Foraging Tour at Dievole: wild herb picking and cooking class at Dievole.
Price p.p.270

€

Pax.10
Duration6

h.
Book nowTours
Here's what you'll do during the Foraging Tour at Dievole
If you love nature at its most pristine, wild herbs and their unmistakable aromas, and food that's wholesome and flavorful, this foraging tour and cooking class will prove a memorable experience.
The tour begins at the Dievole wine bar with your guide, an edible plant and wild herb expert. Nearby there's a large car park. This is the starting point of an exciting walk around the pristine natural habitat that surrounds our centuries-old estate as your guide tells you everything you need to know about the flora and fauna.
During the tour you'll learn how to recognize edible plants and you can get your hands dirty by picking wild herbs, which vary according to the season. For a lasting memory of the foraging tour, participants will be given an elegant herbarium, with a cover decorated in the dried wild flowers and leaves of Dievole. You can stick specimens you've gathered inside, noting each herb's characteristics, medicinal properties and recipes.
Your guide will explain all the rules regarding wild herb picking to ensure personal safety and protecting the environment. It's essential to know at least the basics when it comes to botany and to be capable of identify herbs in their natural surrounding in order to avoid poisoning and at the same time so as not to interfere in the balance of natural ecosystems.
At the end of the walk, our chef Monika Filipinska will be waiting for you in our beautiful kitchens for an exciting wild herb cooking class.
The wild herb cooking lesson will be an unforgettable experience, learning just how many different ways a herb can be taken from pasture to plate. You'll learn how a plant's leaves, flowers and seeds can all be used in different ways and how using wild herbs in cooking is linked to achieving unique aromas, flavors, medicinal and nutritional properties, as well as just looking really pretty. (Surely it's impossible not to be moved by the beauty of a dish decorated with edible flowers!)
At the end of this amazing wild herb cooking experience, back at the wine bar, our sommeliers will guide you through the aromas that the Dievole habitat instills in the estate's red wines and our DOP Chianti Classico extra-virgin olive oil, bestowing a poetry that speaks of nature and respect for the land.
Once the tasting has finished, our Novecento restaurant welcomes you to its elegant dining room so that you can eat the exquisite dishes made with our chef during the wild herb cooking course featuring the edible plants you gathered earlier in the experience.
In case of bad weather, the outdoor tour will be replaced with a lesson held in the stables, where you'll learn how to identify a selection of plants that will be used in the wild herb cooking experience with our chef.
Information
Picking wild herbs with an expert (the lesson will be held indoors if the weather is inclement)
Cooking class with our chef Monika Filipinska
Guided tasting of a selection of our wines and extra-virgin olive oil at our wine shop
Themed lunch at the Novecento restaurant
Personalized Dievole herbarium for participants
Duration: approx. 6 hours including lunch
Parking by the Enoteca
Meet 15 minutes before the start of the tour at Dievole's Enoteca
Available by reservation for 4 people min. and 10 people max.
Wednesday at 9am
Partial disabled access
Pets not allowed
Mandatory booking at least 1 week before the start time
Cancellation policy: for refunds, we must receive the cancellation by email at least 72 hours before the start time
Dievole
Località Dievole 6, 53019 Castelnuovo Berardenga, Siena
Wine Shop Tel.: +39 0577 321026 Email: [email protected]
Other Chianti Classico Wine Tours
For groups, on request only

Wine tours in other Tuscany territories