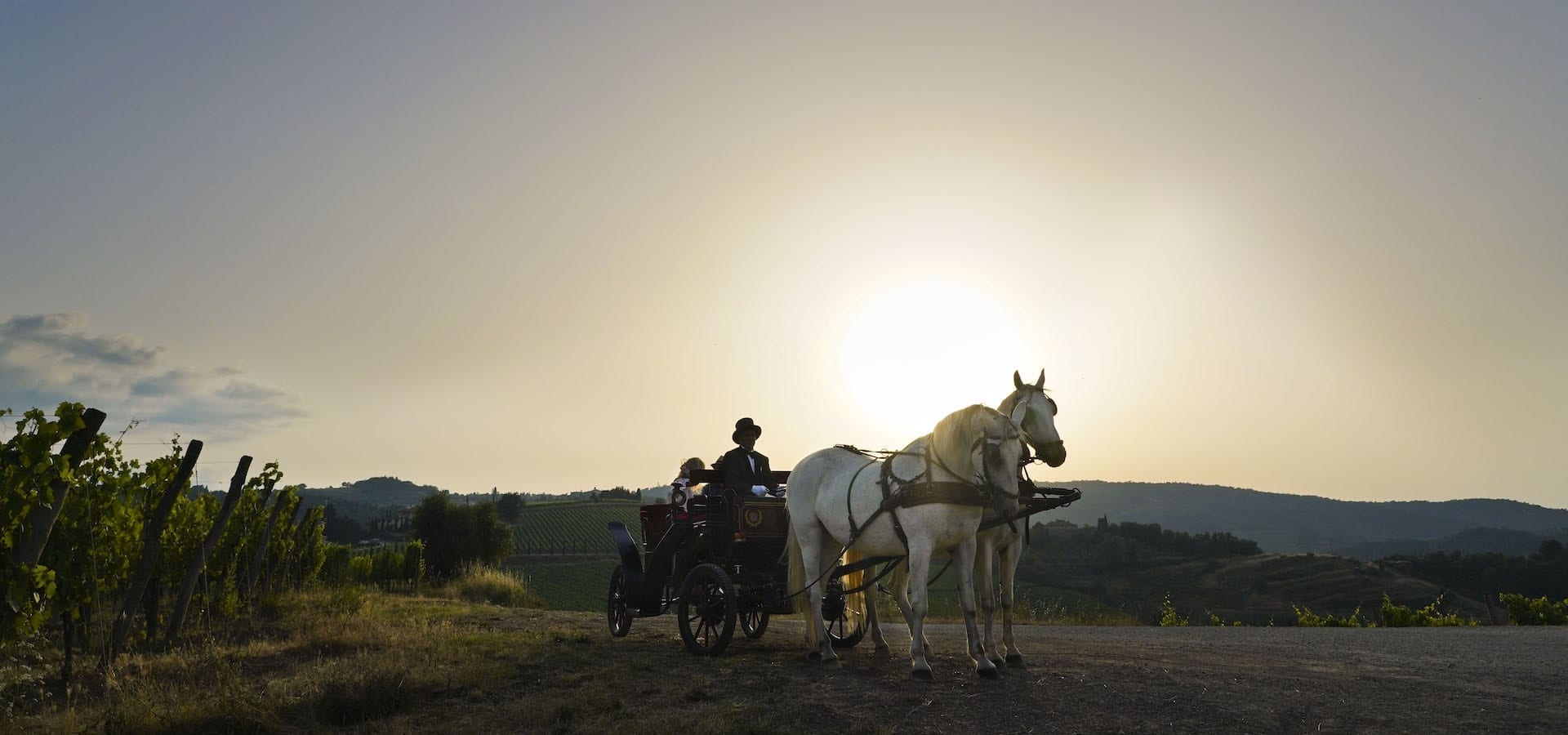 Chianti Classico Wine Tours
Horse and Buggy Tour
Horse and buggy tour at Dievole: a romantic experience in Chianti Classico and a delicious picnic brunch on the riverbank.
Price p.p.400

€

Pax.5
Duration3.5

h.
Book nowTours
Here's what you'll do during the Horse and Buggy Tour at Dievole
If you're looking for a romantic experience in the Chianti Classico region, where you can savour the soul of one of the most beloved wine lands in the world, we suggest you book this unforgettable horse and buggy tour along our Natural Path, which includes a delicious picnic brunch on the Arbia riverbank.
The coachman will meet you at Casanova, the first stone and brick Tuscan farmhouse on the right when you drive along the cypress-lined road that leads to the Dievole Wine Resort from the SP 102. Near the farmhouse you'll see a clearing where you can park your car. This will be the starting point for an exciting and typically Tuscan horse and buggy tour that will take you on an exploration of the enchanting landscape surrounding Dievole. The stretch of road you will travel in a buggy drawn by two magnificent horses winds along the Natural Path, a network of paths immersed in an evocative landscape, rich in vegetation, meadows and hills, amidst the vineyards, olive groves, streams and forests that epitomize Chianti Classico.
A nature guide will accompany you during your horse and buggy tour to explain the typical facets of this one-of-a-kind nature: in addition to animals – our forests are home to squirrels, deer, foxes, porcupines, hares and birds – you will be given information about our estate's natural habitat, touching upon the geological structure, flora of the Mediterranean scrub, vineyards and olive groves that you will come across during this thrilling experience.
Among the many horse and buggy tours available in Tuscany, ours at Dievole boasts the unique feature of not only taking place in an unparalleled landscape, whose old roads (now restored) were once travelled by sharecroppers to reach their farms, but also gives you the chance to feast on a delicious picnic brunch in a setting of rare beauty. Take a break at one of the areas equipped with tables and wooden benches along the banks of the Arbia River. Your picnic hamper will be loaded onto the buggy at the start of the tour, with a menu that varies based on the season, but which includes fruit juice, quiches, and homemade cakes and cookies by our chef Monika Filipinska, as well as espresso or barley coffee and other delicacies.
On the way back, stop at our wine bar, where our sommeliers will introduce you to the poetry of the wines that we produce in the environment you enjoyed during your horse and buggy tour. Our award-winning extra-virgin olive oils are also available to taste, appreciated around the world thanks to their high quality.
For romantics, this incredible experience is also available as a private tour, which can be booked upon request. Perhaps even as the perfect occasion for an original marriage proposal.
This unforgettable experience can be completed by booking lunch at our Novecento restaurant: [email protected]
In the event of inclement weather, the horse and buggy tour might be postponed.
Information
Horse and buggy tour along the Dievole Natural Path with an expert guide
Picnic brunch on the estate on the Arbia riverbank. Sample menu: quiches, homemade cakes and cookies, fruit juice, coffee
Guided tasting of a selection of wines and extra-virgin olive oil at the Dievole wine shop
Duration: approx. 3.5 hours
Parking at Podere Casanova, along the cypress-lined road leading to Dievole from the SP 102,
Meet 15 minutes before the start of the tour at Casanova
Available by reservation for 5 people max.
Price per person varies depending on participant number: 2 people 400€; 3 people 290€; 4 people 235€; 5 people 200€
On request only
The activity might be postponed if the weather is inclement
Pets not allowed
Mandatory booking at least 1 week before the start time
Cancellation policy: for refunds, we must receive the cancellation by email at least 72 hours before the start time
Dievole
Località Dievole 6, 53019 Castelnuovo Berardenga, Siena
Wine Shop Tel.: +39 0577 321026 Email: [email protected]
Other Chianti Classico Wine Tours
Wine tours in other Tuscany territories