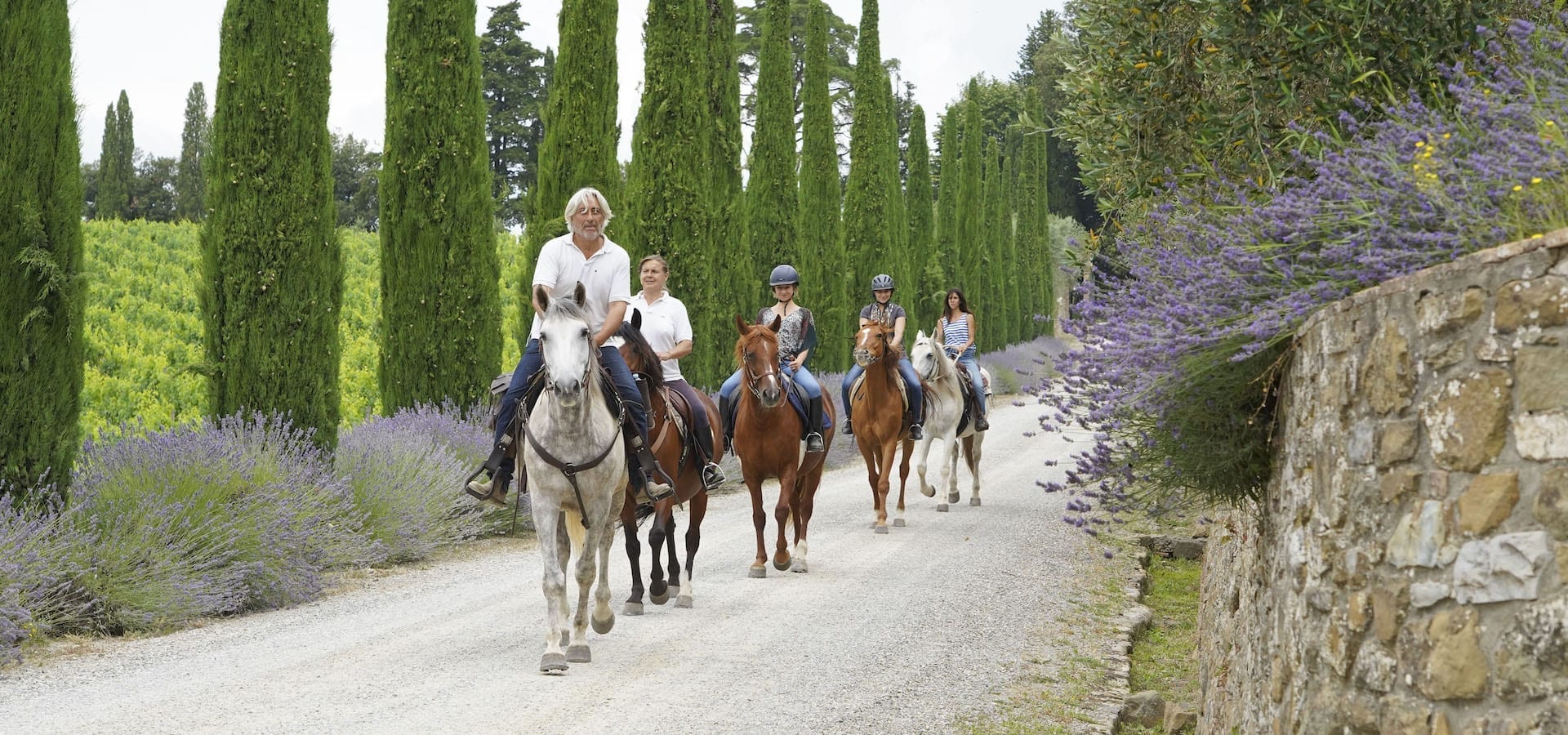 Chianti Classico Wine Tours
Horse Riding Tour
Horseriding at Dievole: an exciting experience in Chianti Classico and delicious picnic brunch on the riverbank.
Price p.p.190

€

Pax.6
Duration3.5

h.
Book nowTours
Here's what you'll do during the Horse Riding Tour at Dievole
If you love adventure, nature and Chianti Classico, treat yourself to this exciting horseriding tour along the picturesque trails of the Natural Path, which wind for 30 km through the Dievole estate, and a delicious picnic brunch on the Arbia riverbank.
Meet your guide at the Dievole Wine Shop, parking your car in the nearby parking lot. You'll be led to the Borgo Cignano equestrian center close by., which is the starting point for an exciting horse ride along a route that changes scenery every step of the way, immersed in the unspoilt and breathtaking landscape surrounding Dievole. Mounted on your horse, you'll be guided along the trails of the Natural Path, a network of paths through an evocative landscape, amidst the ordered vineyards, tangled olive groves, green forests and small streams that epitomize the Chianti territory.
During your horse riding tour, you'll discover the typical characteristics of a one-of-a-kind nature: the natural habitat of our estate is preserved with respect and care, offering our priceless heritages to the local community. You'll cross through Mediterranean scrub, rows of vineyards and olive groves; if you're lucky, you might also see some of the animals that live in our woods: squirrels, deer, foxes, porcupines, hares and birds.
Among the many offers for horseback riding available in Tuscany, Dievole boasts the unique feature of enjoying a delicious picnic brunch in a setting of rare beauty. At one of the areas along the Arbia River, equipped with tables and wooden benches, you'll find a picnic hamper filled with tasty delicacies that vary based on the season: quiches, homemade cakes and cookies, fruit juice and coffee, all made by our chef Monika Filipinska.
At the end of the horse riding tour, a stop at our wine cellar will allow you to taste the poetry of the natural habitat you enjoyed during the tour, bestowed upon our wines and award-winning extra-virgin olive oils that are beloved throughout the world for their high quality. Our sommeliers will be happy to guide you through a technical tasting of three wines and our Chianti Classico DOP extra-virgin olive oil, adding to the excitement of the tour.
The horse ride ends at the Borgo Cignano stables, where you'll be driven back to your car.
This unforgettable experience can be completed by booking lunch at our Novecento restaurant: [email protected]
On booking the tour, you'll be sent a questionnaire that we kindly ask you to fill out, indicating your level and skills in horse riding so we can pair you with the right horse.
In the event of inclement weather, the horse riding tour might be postponed.
Information
Horseride along the Dievole Natural Path
Picnic brunch on the estate on the Arbia riverbank. Sample menu: quiches, homemade cakes and cookies, fruit juice, coffee
Guided tasting of a selection of wines and extra-virgin olive oil at the Dievole wine shop
Only for people with some horseriding experience
Minimum age: 14 years
Duration: approx. 3.5 hours
Parking by the Enoteca
Meet 15 minutes before the start of the tour at Dievole's Enoteca
Transfer to the nearby Borgo Cignano stables
Available by reservation for 6 people max.
Daily at 9 pm
The activity might be postponed if the weather is inclement
No disabled access
Pets not allowed
Mandatory booking at least 1 week before the start time
Cancellation policy: for refunds, we must receive the cancellation by email at least 72 hours before the start time
Dievole
Località Dievole 6, 53019 Castelnuovo Berardenga, Siena
Wine Shop Tel.: +39 0577 321026 Email: [email protected]
Other Chianti Classico Wine Tours
For groups, on request only

Wine tours in other Tuscany territories