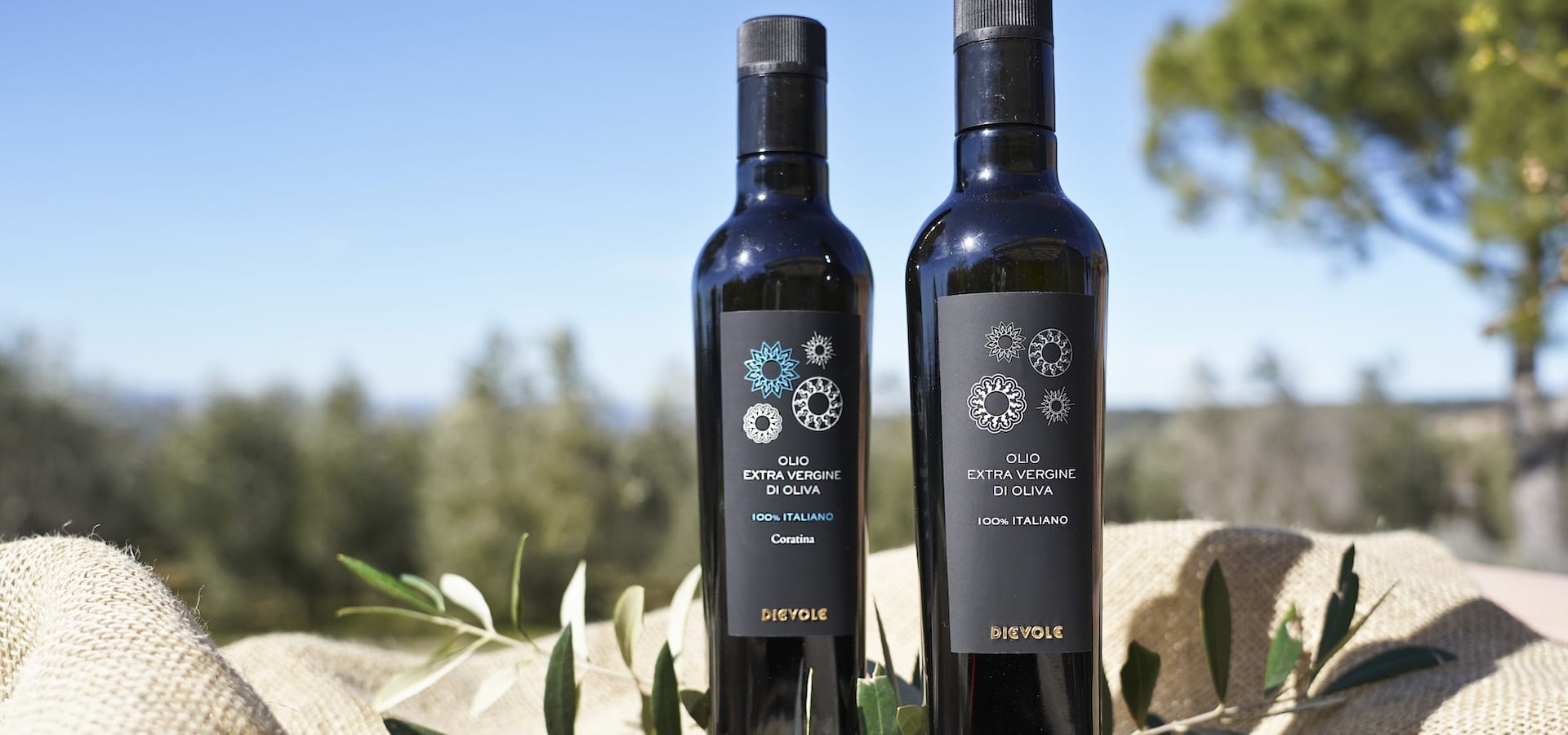 Chianti Classico Wine Tours
Extra Virgin Olive Oil Tasting
A unique tasting experience and awakening for the senses to learn to love our "liquid gold".
Price p.p.20

€

Pax.10
Duration1

h.
Book nowTours
What you'll do during an Extra Virgin Olive Oil Tasting
Dievole's Extra Olive Oil Tasting is among the most intense experiences that Chianti Classico has to offer, awakening the senses to learn how to taste our "liquid gold".
For centuries, olive trees have deeply contributed in forming Tuscany's identity. Wherever they grow, they bring a sense of timeless tranquillity and their fruit lies at the very foundation of one of Tuscany's most celebrated excellences: Extra Virgin Olive Oil. Full of flavour, it is also known thanks to its numerous antioxidant, therapeutic and culinary characteristics. Dievole's olive oils are known for their specific flavours and are officially considered among the best olive oils in the world.
The olive oil tasting session will take place in our wine shop. After a brief introduction on this pillar of Italian gastronomy's history and cultural legacy, we walk our guests through our production philosophy centred on the use of a low-impact oxidative system that respects the cultivar's integrity and traceability.
The olives are selected in top-tier groves in Tuscany's Chianti Classico and Maremma, and in Puglia, Basilicata and Sicily. This is the beginning of our top-quality extra-virgin olive oil range, vaunting a strong identity and extraordinary aromas and flavours. The olives are pressed at Dievole's own mill, near Pianella; every production lot has its own ID card to guarantee traceability and the utmost expression of a given land. The production line consists of a low-oxygen impact system that maintains the maximum oil contained in the just-picked olives.
The team adjusts all the parameters according to the olive varieties and their health, temperature, ripening, water concentration and the aromas and flavours desired in the end result. Once extracted, the oil is filtered immediately through cellulose panels to remove 99% of the water. It is stored in stainless steel vats, away from the light, at temperatures ranging between 14 and 20°C to extend the shelf life. Bottling takes place in an inert atmosphere using bottles that reduce UV penetration to 97%.
Dievole's Extra Virgin Olive Oil Tasting reveals the reasons behind our decision to produce three different types of olive oils – Chianti Classico DOP, Toscana IGP and 100% ITALIANO.
The technical tasting of four varieties unveils the amazing range of aromas and flavours (Chianti Classico DOP; Toscana IGP; 100% Italiano Blend; 100% Italiano Monocultivar Coratina) as well as showing you how to use each one in the kitchen.
Only available on request, a themed lunch can be booked at our restaurant. Our chef has created a one-of-a-kind tasting menu, in which all the extra-virgin olive oils tasted on the tour become the main ingredient in the dishes prepared. This special menu must be agreed at least 72 hours prior to the tour by emailing [email protected]
Information
Technical tasting of our extra-virgin olive oils at the Enoteca: Chianti Classico DOP, Toscano IGP, 100% Italiano Blend; 100% Italiano Monocultivar Coratina
Duration: approx. 1 hour
Parking by the Enoteca
Meet 10 minutes before the start of the tour at Dievole's Enoteca
Available by reservation for 10 people max. (for larger groups, please contact: 

[email protected]

)
Daily at 3 pm
Children up to 12 years go free
Disabled access
Pets allowed
Mandatory booking at least 24 hours before the start time
Cancellation policy: for refunds, we must receive the cancellation by email at least 72 hours before the start time
Dievole
Località Dievole 6, 53019 Castelnuovo Berardenga, Siena
Wine Shop Tel.: +39 0577 321026 Email: [email protected]
Other Chianti Classico Wine Tours
Wine tours in other Tuscany territories