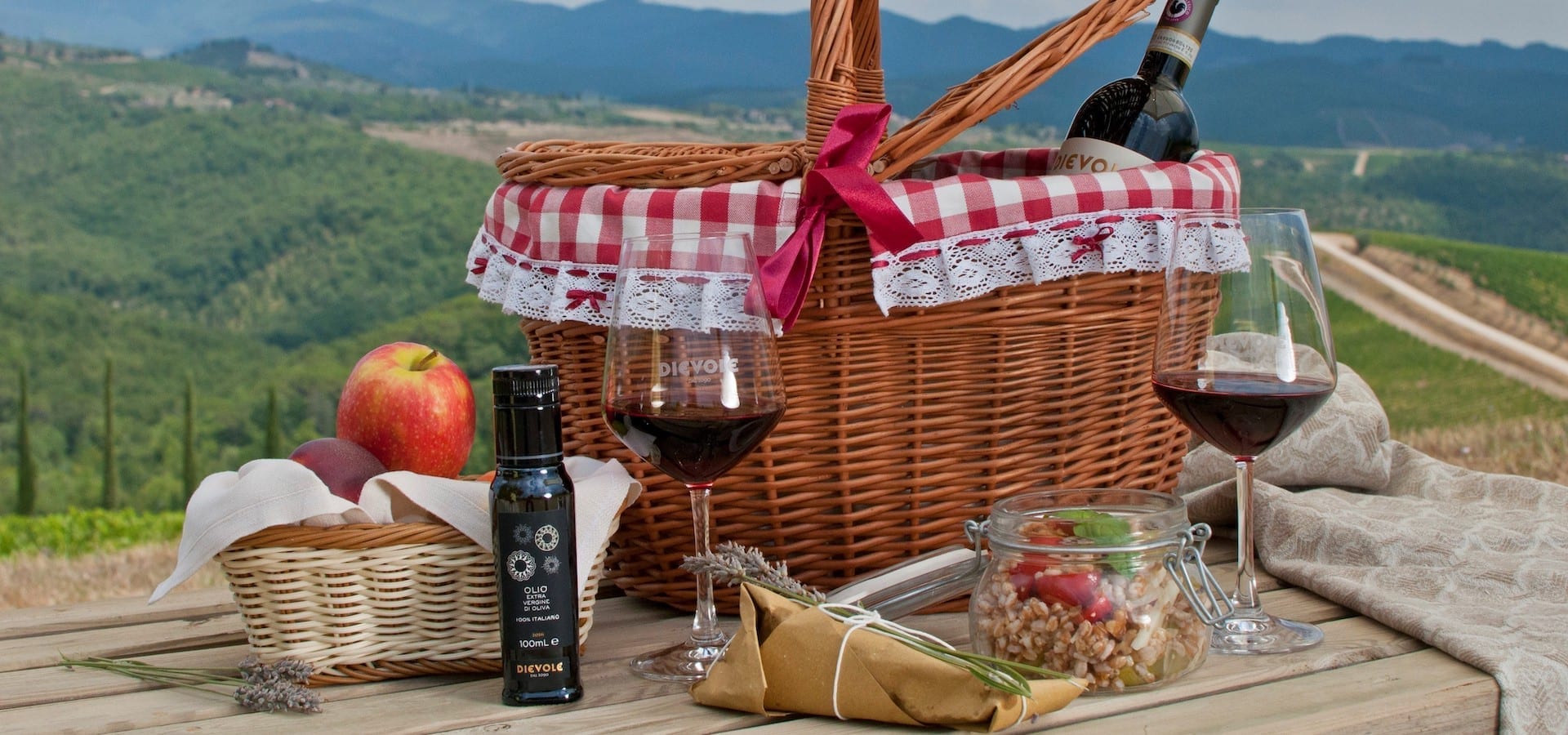 Chianti Classico Wine Tours
Gourmet Picnic at Dievole
Gourmet Picnic at Dievole: exclusive Chianti Classico wine tasting and delicious picnic in the vineyards.
Price p.p.60

€

Pax.12
Duration2

h.
Book nowTours
What you'll do at our Picnic in the Vineyards at Dievole
The Gourmet Picnic begins with a welcome tasting at our wine shop, where you can taste a selection of our group's products before enjoying a delicious lunch in our vineyards.
During the tasting you will savour some of our fine wines and extra-virgin olive oils, officially recognized as being among the best in the world. We'll walk you through our sustainable production philosophy, result of centuries-long research and a delicate synergy between nature and conscious development.
At the end of the tasting, you'll set off for a fun picnic in our vineyards.
Our staff will hand you an elegant wicker hamper complete with checkered fabric, containing plates, glasses, cutlery and water, plus a bottle of our latest Dievole Chianti Classico DOCG vintage, corkscrew, a bottle of Chianti Classico DOP extra-virgin olive oil and all the essentials to relax and enjoy your outdoor lunch.
The menu prepared for you by our chef Monika Filipinska includes the likes of focaccia filled with Tuscan cured meats and cheeses, cold spelt or rice, seasonal vegetables dipped in our Chianti Classico DOP extra-virgin olive oil, a slice of homemade cake and fresh fruit or seasonal fruit salad.
You can revel in this gastronomic experience in some of the estate's most striking scenery. There are three picnic areas, easily reached on foot from our wine shop.
One of these areas is located at the most scenic spot on the estate, beneath our experimental Fidelio vineyard, a large wheel whose spokes represent a selection of our group's native vines. In the shade of a pergola of natural vines and the nearby olive trees, you can savour your picnic while admiring the verdant vineyards, alternating with woodland, olive groves and farmhouses, with the Chianti hills in the background, the Crete Senesi and Monte Amiata to your right. Another shaded picnic spot lies in the pine, beech and oak forests beneath the Yew Garden, along the Life section of our Natural Path. Both of these locations are perfect for couples or groups of no more than four people.
For larger groups (up to 10 people max.) there are two large tables in a shaded clearing by the Casanova farmhouse. This typical Tuscan brick and stone dwelling is located along the cypress-lined gravel road that leads to our Wine Resort. Here too you can enjoy breathtaking views over most of the southern Chianti Classico area, surrounded by vineyards, olive groves and thick woodland.
The perfect picnic spots for you will be suggested by our staff.
You'll have your very own corner of paradise in which to relax for an unusual food and wine experience: it's an intense way of enjoying the Tuscan lifestyle.
Information
Tasting of a selection of wines and extra-virgin olive oil at the Dievole wine shop
Gourmet picnic on the estate
Sample menu: focaccia filled with Tuscan cured meats and cheeses, cold spelt or rice, seasonal vegetables, homemade cake, seasonal fruit
A bottle of Dievole Chianti Classico DOCG
A bottle of Dievole Chianti Classico DOP extra-virgin olive oil
Duration: not stipulated
Parking by the Enoteca
Tasting and picnic hamper collection at 12 noon at the Enoteca
Available by reservation for 12 people max.
Thursday, Friday and Saturday at 12 noon
A Children's Picnic Menu is available for children under 12 years for 29€
The picnic menu can be eaten at our restaurant if the weather is inclement
Partial disabled access
Pets allowed
Mandatory booking at least 24 hours before the start time
Cancellation policy: for refunds, we must receive the cancellation by email at least 72 hours before the start time
Dievole
Località Dievole 6, 53019 Castelnuovo Berardenga, Siena
Wine Shop Tel.: +39 0577 321026 Email: [email protected]
Other Chianti Classico Wine Tours
Wine tours in other Tuscany territories