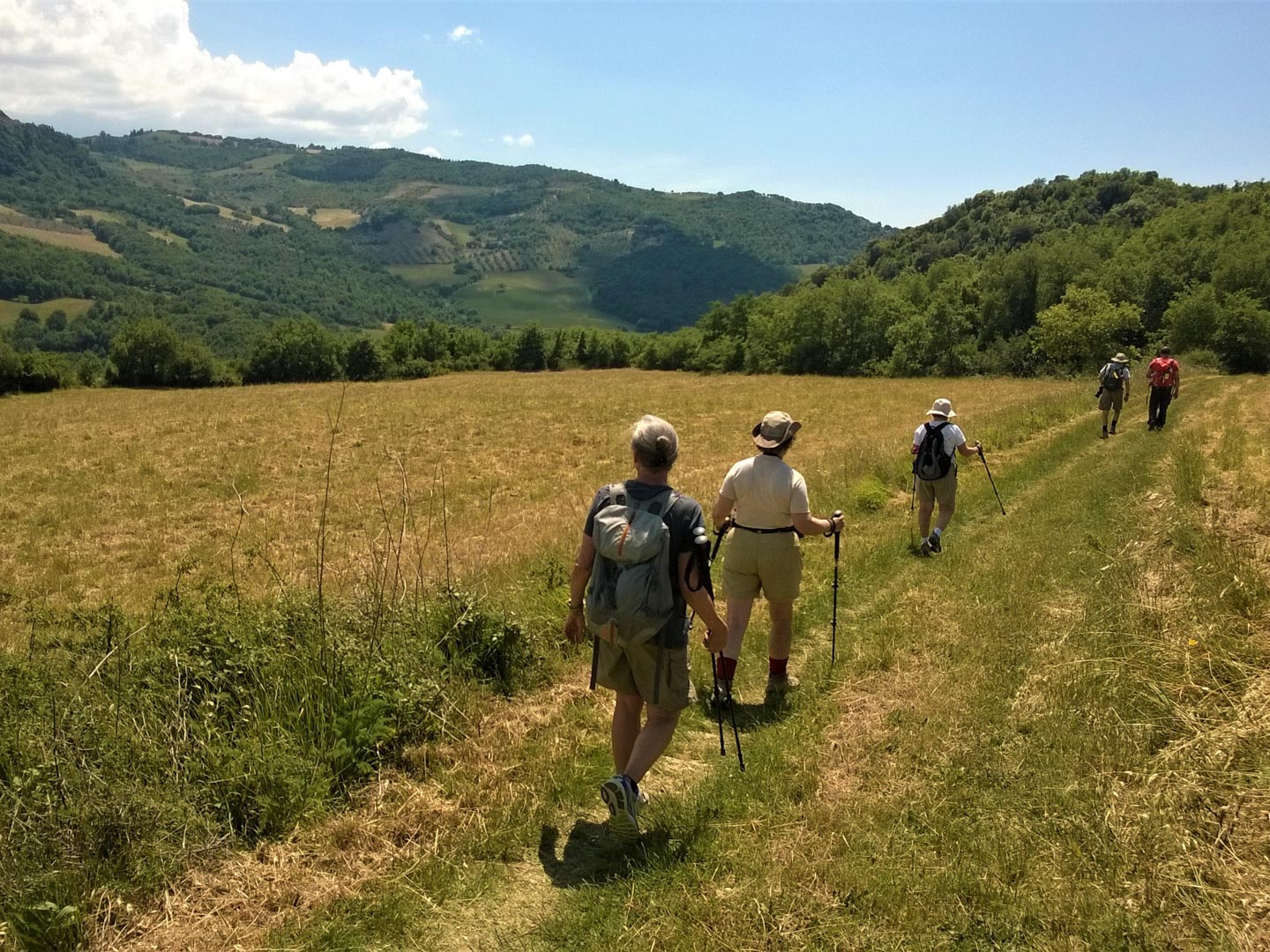 Montalcino Wine Tours
Bagno Vignoni Tour: pilgrims of beauty
Price p.p.90

€

Pax.8
Duration4

h.
Book nowTours
DESCRIPTION OF THE ACTIVITY
The length of the route is about 13 kms, the change in elevation around 350 meters and the difficulty from easy to medium. In addition, the guide will always be present, ready to agree on any changes to the tour.
To crown this splendid experience, it is possible to book lunch in a typical restaurant (or have a pleasant picnic) and enjoy the spas that this beautiful place offers. At the end of the excursion you will find yourself in our Poggio Landi estate for the tasting of our wines, ready to savor the last wonder of your journey.
In addition to Bagno Vignoni, it is possible to create personalized experiences or choose between two other activities available such as walking in the Val d'Orcia countryside between Pienza and Corsignano, including the beautiful Chapel of the Madonna di Vitaleta or an excursion to Montalcino and Montosoli.
Information
Meeting with the guide at Bagno Vignoni, in Piazza delle Sorgenti, under the loggia at 9.00 a.m.
Trekking on the Via Francigena between San Quirico and Bagno Vignoni along a ring of about 13 km; difference in height of about 350 mt (the excursion can also be shorter)
Tuscan food and wine experience: technical tasting at Poggio Landi wine shop paired with local pecorino cheese
Options not included in the package upon request: Lunch in a typical restaurant, free access to the spa in summer or entrance to the spa (recommended in winter)
Recommended clothing: sneakers with profiled soles or hiking shoes, comfortable clothing, personal water bottle with at least one liter of water per person (otherwise a water bottle will be provided), sunscreen, hat with visor, waterproof windbreaker in case of changeable weather.
Children and teens free under 12 years
This activity is available in English and Italian
Cancellation policy: Cancellation policy: refunds are not given except in special cases; instead, a voucher will be issued that can be used within one year
In addition to Bagno Vignoni, it is possible to create personalized experiences or choose between two other activities available such as walking in the Val d'Orcia countryside between Pienza and Corsignano, including the beautiful Chapel of the Madonna di Vitaleta or an excursion to Montalcino and Montosoli.
POGGIO LANDI
Località Pod. Belvedere, SP71 Fraz. Torrenieri, 53024 Montalcino (SI)
Wine Shop Tel:+39 0577 042736
Email: [email protected]
Other Montalcino Wine Tours
April 2023 - November 2023

Wine tours in other Tuscany territories