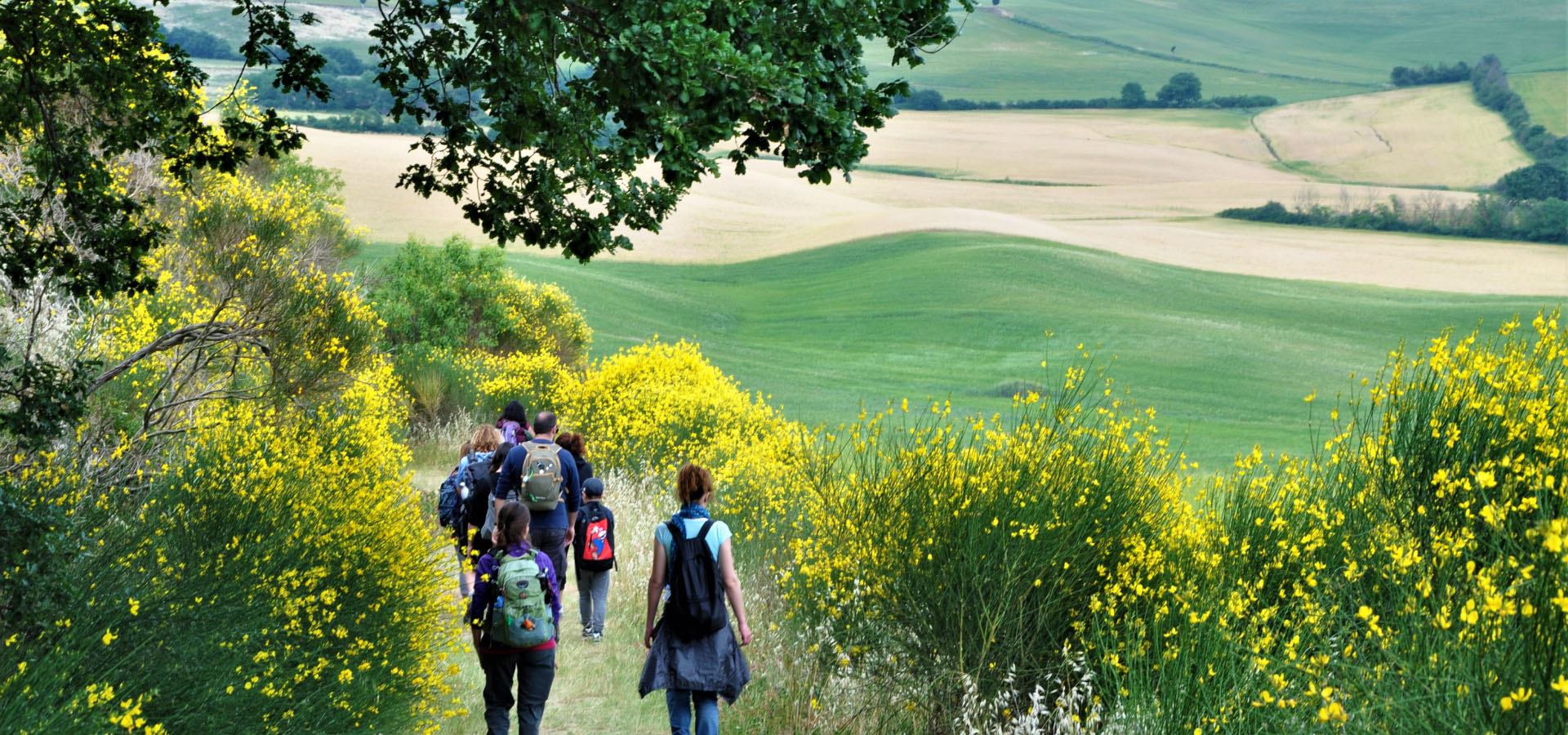 Montalcino Wine Tours
Hiking in the Val d'Orcia: The Pienza Loop
An inspiring hike in the Val d'Orcia along the scenic roads of Pienza, the ideal city for those looking for beautiful hiking routes and authentic food and wine experiences in Tuscany. 
Price p.p.75

€

Pax.8
DurationAll day

h.
Book nowTours
The spirit of Pienza
Dream scenery for timeless travel
A sleepy town in the hills of Tuscany
Pienza is like a dream. Time slows down in its narrow streets. The scents, sounds and scenes flow freely before your eyes. The only thing that remains to do is to continue the discovery with a hike amidst the beauty. 
If this is your first time exploring the Val d'Orcia, here's a word of advice. Listen, rather than looking. The spirit of Pienza whispers from every part and glimpse of this sleepy Renaissance town in the hills of the Val d'Orcia. If you listen carefully, you'll be able to hear the wind rustling as the elements tell you the story of these country lands.
Walking in a dream at two different paces
It's not by chance that hiking is the best way to experience Pienza and the Val D'Orcia loop. It takes time, serenity, and your own pace. 
That's why we have developed two slightly different routes. You can choose the formula and duration that best suits you and the experience you're looking for. 
The tour, which takes a full day, includes the Pienza Loop, Corsignano and Vitaleta, an iconic chapel that is one of the most photographed places in Tuscany. The route is about 12 km long and is fairly easygoing: the only issue is that you might encounter a bit of mud along the way if it's rained a few days before.
There's also the chance to enjoy lunch at a typical restaurant in Pienza or to savor a picnic outdoors (both options are not included in the price of the tour). Museum tickets can be purchased separately, or you can just enjoy the town's buildings from the outside.
A hike tailored for you
The tour can be booked up to 72 hours before for a maximum of eight persons. It will end with a tasting of our wines in the Poggio Landi cellars.
We care about tailoring the experience to your taste, which is why a guide will accompany you all day long and vary the tour according to your needs/requests.
Enjoy your introduction to the town of popes, UNESCO World Heritage and countryside that inspired scenes in the film Gladiator.
Information
Meeting point and welcome in Pienza, Piazza Dante Alighieri, in front of the town gate at 9.00 am
Hike through Val d'Orcia from Pienza to Corsignano, including the Chapel of the Madonna di Vitaleta –

with a break for packed lunch –

over a circuit of around 12 km/7.5 miles; altitude variation +- 420 m / 1380 feet

Tuscan food and wine experience: wine tasting session

 at the Enoteca, featuring wines from the Poggio Landi estate and local pecorino cheeses. Parking available outside the enoteca.

Duration: full day

Recommended clothing

: thick-soled sports shoes or walking boots; light, comfortable clothing; personal water bottle with at least one litre of water per person (otherwise a smaller bottle of water will be provided); sunscreen; cap with sun visor; raincoat in case of variable weather

Booking is required. Tours run with a minimum of 4 and a maximum of 8 persons. Available dates can be found in the calendar under "Book your tour"

Alternative availability: on request

Free entry for children under 12 years old

Pets not admitted to the wine cellars

Booking required at least 72 hours before the activity

Cancellation clause: refunds will only be given if parties provide notice of their cancellation 

by email

 at least 72 hours before the start of the event

Optional extras, available on request:

Lunch in traditional restaurant (in place of packed-lunch picnic);

Entry tickets to museums in Pienza
Poggio Landi
Località Pod. Belvedere, SP71 Fraz. Torrenieri, 53024 Montalcino (SI)
Wine Shop Tel:+39 0577 042736 Email: [email protected]
Other Montalcino Wine Tours
Wine tours in other Tuscany territories